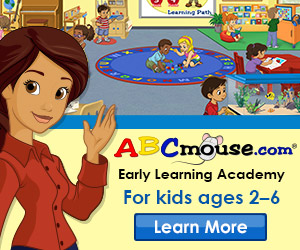 ABCmouse is an online kid's learning site that features a full online curriculum for kids: Preschool through Kindergarten (ages 2-6).
They currently have a large TV campaign running….you have probably seen the commercials…and if you are like me….maybe even a little curious.
ABCmouse is a Step-by-Step Learning Path presents a Pre-K through Kindergarten curriculum carefully designed program of more than 450 lessons in six levels. As your child completes each lesson, he or she is guided to the next one and is motivated to continue learning by ABCmouse.com's Tickets and Rewards System.
The lessons of the Step-by-Step Learning Path consist of books, puzzles, games, songs, art activities, and/or printables that relate to a specific topic. Each lesson offers children several different ways to learn, in accordance with the recommendations of early childhood experts.
For a limited time, you get a 4 month subscription for ONLY $19.95 (=$5 a month)
You will want to see the site for complete details/fine print.
I would make sure your pop off blocker is off…because the special pricing popped up for me…
I am thinking about trying this program with my 4 year old. I did a similar Pre-K program with my now 6 year old a couple of years back and he enjoyed it and I think he benefited it from it.
If your child uses this program, I would LOVE your feedback!
Head over to ABCmouse
 This post may contain affiliate links. Please refer to the Disclosure Policy for more details. Photo Credit: ABCMouse